Signs of Sexual Abuse| C.A.R.E.
Be aware that any of these symptoms or signs in a may not necessarily mean he/she is a victim of sexual abuse. These are simply common characteristics children display when they have been abused and can be used to help identify poss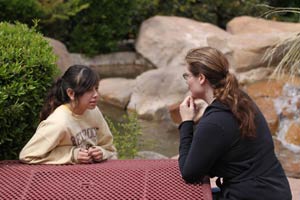 ible problems in a child's life that warrants attention. Let us help you find the right out of home placement for your struggling child.

Possible Signs of Sexual Abuse

• Sexually-transmitted disease
• Unexplained pregnancies
• Bruising/bleeding in rectal, thigh, and/or genital areas
• Complaints of stomach and abdominal pain
• Recurrent urinary tract infections
• Yeast infections
• Drastic weight loss/gain
• Evidence of purging food
• Vaginal or penile discharge
• Radical change of appearance
• Signs of exhaustion/lack of sleep
• Possession of unexplained gifts or money
• Signs of intoxication after spending time w/adult or older adolescent
• Sexually-precocious or attempts to mask seductive behavior
• Hides secondary sexual characteristics
• Attempts to be unattractive
• Abnormal sexual knowledge
• Radical mood swings
• Sense of danger where he/she lives
• Change in eating habits (bulimia, anorexia, or compulsive eating)
• Apparent boredom w/age peers and age appropriate activities
• Nightmares, insomnia, sleepwalking and other sleep disturbances
• Radical change in school performance for better or worse
• Fearful about certain people
• Over achievement
• Depression, crying episodes, etc.
• Substance abuse/addiction
• Expression of "damaged goods" syndrome
• Angry, hostile or aggressive behavior
• Fear of adult or adolescent
• Fear of being photographed
• Anxiety reaction to authority figures
• Fear of undressing or refusal to undress in gym class
• Pseudo-mature/overly-compliant or accommodating
• Regressive, babyish behavior
• Spending inordinate amounts of time in game rooms, arcades. etc
• Recruiting other children to become involved with an adult
• Suicidal thinking, gestures, and attempts
• Hints regarding sexual behavior
• Fear of nurturing/withdrawal/impaired ability to trust
• Self-hatred
• Memory loss
• Fear of the dark
• Find reasons to not be with someone they used to spend time with (or any change of behavior toward a friend or family member)
• Unable to concentrate, daydreaming, 'spacing out', 'in a world of their own'
• Withdrawn, isolated, or excessively worried